Skip links and navigation
Our board
The Health Consumers Queensland Board is community-based with a range of skills and experiences in consumer representation and community engagement. They meet regularly to provide strategic direction and oversight of Health Consumers Queensland's work.
---
Mark Tucker-Evans
Chair
Mark Tucker-Evans has been involved with Health Consumers Queensland since its inception in 2008. He was the inaugural Chair of the Ministerial Advisory Committee and became the first Chair when Health Consumers Queensland was established as an independent organisation.
Mark is the Chief Executive of COTA (Council on the Ageing) Queensland, Chair of Institute of Healthy Communities Australia; Queensland Health Consumers Collaborative;  and an Executive Member of the Queensland Clinical Senate.
Previously Mark has held CEO roles within research, media, industry and professional associations in NSW and Queensland and developed significant expertise in issues related to consumer and community engagement and age-friendly cities and communities.
Why am I here?
I am passionate about creating a health system and services that are co-designed with health consumers. I believe it is only then that we will have an effective and efficient health system which meets the community's needs.
---
Dr Erin Evans
Director
Erin is a specialist educator and advisor in complexity management, systems and strategy.  She is the discipline lead of systems thinking and complexity management at QUT Graduate School of Business where she lectures to the MBA, Executive MBA and executive programs.
In Australia and internationally, Erin has consulted in a range of industries and areas including health, Indigenous communities, defence, financial services, technology and education. These include:
Organisational development
Strategy
Change management
Erin's PhD was in the field of medical biotechnology and she has worked for over 10 years in the Biotech and Pharmaceutical industry as a global project and quality manager.
Erin has been a Director on the Health Consumers Queensland Board since 2014. She is also on the Board of One Health Organisation and the Australian Organisation of Quality. She's also been a board member of Integral Institute Australia, Latin Dance Australia, Brisbane Independent School, Executive Leadership Advancement Network, and Kigoma Development Promotion Agency.
Why am I here?
I am passionate about health and believe that improving the health system can only arise through a holistic approach that integrates the needs and voices of all, including consumers and carers. I want to bring my skills of working with complex systems and passion in health care to create better outcomes to meet the needs of all communities.
---
Brendan Horne
Director
When Health Consumers Queensland was established in 2008 as a Ministerial Advisory Committee, Brendan was there and has continued to be involved in the work of Health Consumers Queensland. He is now a member of the Board and has been for the past two years.
Brendan has many years personal experience as a carer within his own family. He is a social worker with a master's degree in social policy. He has been involved in human services, in numerous capacities, for the past 40 years. He has been a director on numerous Boards of NGOs in the health disability sphere. For a decade he was the General Manager of the Cerebral Palsy League and helped in its restructure and deinstitutionalisation. The organisation was decentralised and services developed for outlying areas. He was the Director of the Commonwealth Rehabilitation Services in north and central Queensland during a period of major change. He has worked in health, community services, corrective services and juvenile justice in New South Wales, Victoria and South Australia, he worked in child protection in Ireland. Until his retirement he was the services manager for Carers Queensland. Brendan's earliest involvement in human services was as a Northern Territory patrol officer and later superintendent working with the Aboriginal communities particularly those people from the Western Desert.
Why am I here?
Over the last decade I've seen families disempowered when they confront government and health systems and I'm interested in how we can support these families to have their voices heard. I'm involved with Health Consumers Queensland because I believe it's a good a vehicle for tackling these issues in a constructive way.
---
Steve Russell
Director
Steve is a life long health consumer and an active health consumer advocate for over 40 years.  His professional experience includes social justice and human resource program manager with the Commonwealth Government in the ACT, NSW and QLD, a community development consultant to all levels of government and community sector and an elected local government councilor.
He has held numerous positions as member and chair of Public Sector advisory and consultative committees on health and environment matters.  He has been Chair of both Innisfail District Health Council and Cairns and Hinterland Hospital and Health Service Health Community Council.  He is currently a Director of the Board of Far North Queensland Hospital Foundation.
He operates a small tourism business in Far North Queensland in partnership with his wife and is an aspiring recluse.
Why am I here
As a long term health consumer I have been fortunate to be able to actively participate in the management of my particular health needs.
It became very obvious that not all health consumers are so fortunate and many have great difficulty navigating the health system. I am hopeful that through Health Consumers Queensland I can share my skills and experience to enable consumers to more actively manage their health needs and shape the health system.
---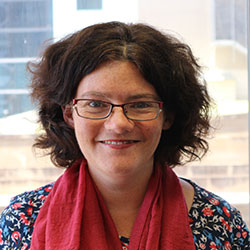 Julie Connolly
Director
Julie Connolly holds a PhD in political philosophy and continues to teach on a casual basis at the University of Queensland in the history of political thought. In her other day job she manages advocacy, impact and innovation at the Multicultural Development Association (MDA), working with and on behalf of refugees, asylum seekers and other emergent communities in Queensland. This is not Julie's first job as an advocate and she has also worked in mental health advocacy and trade unions.
Julie has a lively interest in reform in health sector and human services more generally. She believes that the trajectories of reform in both governance and funding contain the potential to empower consumers, ensuring that their voice and experience is integral to the way that services are designed and delivered.
Why am I here?
Ever since I was hit by a car many years ago and spent a couple of months in hospital, I have been fascinated by the way that people renegotiate their identity, their sense of personal dignity and autonomy when ill or injured. Our experiences are hemmed in by large systems over which it is difficult to feel any meaningful sense of control, while at the same time the experience is so deeply personal, life-changing in  small and large ways. Being part of an organization that works to humanise these systems, ensuring they are respectful, is a challenge and a privilege.
---