Resources
Here are some useful resources for consumers and carers in the role of consumer representatives, and for health providers wanting to meaningfully partner with consumers. Please email us if you find other resources you think we should consider adding here.
---
Resources from Health Consumers Queensland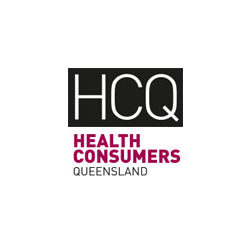 Remuneration and reimbursement for consumer representatives statement
Valuing the time and expertise of health consumers and carers is vital. Health Consumers Queensland recommends health consumers and carers are paid for their time and reimbursed their costs when engaging with health services. This document sets out our recommended rates.
---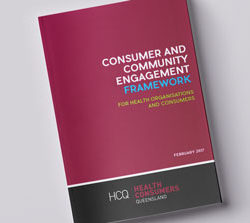 Consumer and Community Engagement Framework 2017
The Consumer and Community Engagement Framework is designed to orient health organisations to what underpins successful consumer and community engagement. The goal of this Framework is to encourage health organisations to embed consumer and community engagement in their work.
The Framework can be used across the health system from public and private health services, primary health organisations, government departments to universities and research centres. It will support health providers to develop strong consumer and community partnerships that drive changes, delivers better outcomes and provide healthcare the community wants and needs
---
Consumer and Staff Handbooks
These handbooks are currently being updated, and are due to be released later in 2018.
---
Information for health consumers about the Consumer Representative Program: ideas, tips and suggestions to support their participation on committees and other health consumer engagement initiatives.
---
Consumer Representatives Program Agency Handbook
Ideas and information for health staff on how to invite, encourage and support consumer engagement on committees.
---
Resources from Australian Commission on Safety and Quality in Healthcare
Standard 2
The Australian Commission on Safety and Quality in Healthcare have developed a number of Standards which hospitals are accredited against.
Health Literacy
The Australian Commission on Safety and Quality in Healthcare have developed a number of health literacy resources
National Safety and Quality in Healthcare Services Fact Sheets
Five fact sheets have been developed to support health service organisation's improve their health literacy environment. The next version of the National Safety and Quality in Health Services Standards has a greater emphasis on partnerships with consumers and embedding health literacy into an organisation's systems and processes. The following fact sheets link staff working in quality improvement to a range of tools and examples to help plan improvements to the organisation's health literacy environment.
Fact sheet 1: an introduction to improving health literacy in your organisation
Fact sheet 2: making health literacy part of your policies and processes
Fact sheet 3: making way-finding easier
Fact sheet 4: writing health information for consumers
Fact sheet 5: supporting staff to meet health literacy needs.
The fact sheets are available to download from the ACSQHC website
Australian Charter of Healthcare Rights
The charter applies to all health settings anywhere in Australia, including public hospitals, private hospitals, general practice and other community environments. It allows patients, consumers, families, carers and service providers to have a common understanding of the rights of people receiving health care.
Other useful resources
Consumers Health Forum of Australia (CHF) have information and resources including training modules for consumer representatives and those interested in becoming representatives: Our health, our community
Health Consumers NSW (HCNSW) have a variety of useful tools and resources including documents, factsheets, guidelines
www.hcnsw.org.au/resources
Health of Queenslanders Report
The Health of Queenslanders 2014 report captures a broad range of information at a state and regional level about the health status of the population. This information will inform your work as a consumer representative
The Health of Queenslanders 2014 (full report)
Experience-Based Co-Design: a toolkit for Australia
Experience-Based Co-Design: a toolkit for Australia guides services in using the expertise and experiences of healthcare staff and patients in a genuine equal and reciprocal relationship to develop a better healthcare experience for all. The toolkit incorporates overseas experience as well as Australian knowledge to provide a clear five-step process for Australian settings.