Breakouts 1 to 3
Breakout 1
Sidestepping tokenism: Building a dynamic mental health consumer group
Wide Bay Partners in Recovery
When sitting down to discuss what it is we wanted to establish as a consumer reference group, we knew what we didn't want. We didn't want to end up sitting around a table month in month out, with the same eight opinions just to say "we've consulted". We wanted to have feisty disagreements and not always walk away having a neat solution. We wondered whether it was possible to have a meaningful and deliberate conversation with people who use our services and their families. This is a conversation about how we're trying to build that and translate those conversations into action.
This presentation is the story of a collaboration between the PHN and a local peer-operated service to engage in meaningful, deliberative and ongoing conversations with people who use services in our region. It is a case study of an innovative model of engagement and the values that drive it.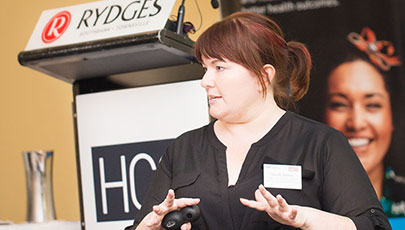 ---
Breakout 2
Raising health staff awareness about health literacy issues: The impact of a consumer video on staff perceptions of health literacy
Townsville Hospital and Health Service
Jo Sherring
 Lyn Hinspeter
Health staff often believe they communicate in a manner that patients and families can understand.
It can therefore be challenging to engage them in concepts around health literacy and to understand the full gravity of ensuring we create tools and speak in a manner that supports true patient and family understanding and knowledge about health.
Information forms the basis of any partnership between a patient, their family and the healthcare team.
The Patient Information and Health Literacy Meeting Group decided to make a video to highlight true understanding and opinion of patients and families in relation to health language and information. We set up a video camera in the hallway of our main hospital and asked people walking past if they would be prepared to help us make a video for staff learning. We then gave them pieces of card with commonly used health words and asked them to describe in their own words what they thought the word meant.
The results were interesting and at times very surprising. We also asked them to tell us about what it is like talking to health staff and some of the things they thought we needed to know. This video has been shown in a range of contexts, from health service orientation, Health Literacy Week events and other staff training events. Feedback from staff has indicated it opened their eyes and made them consider the assumptions they make about patient and family understanding.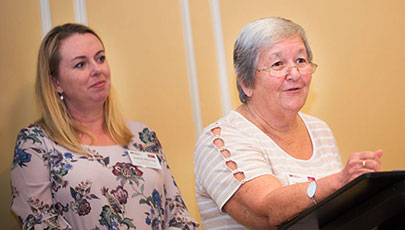 ---
Breakout 3
Outcomes of lived experience sharing in domestic and family violence training
Queensland Health Strategic Policy and Metro North Hospital and Health Service
This presentation is focussed on personal commitment and action towards changing culture through consumer collaboration and involvement in design, delivery and evaluation of the Domestic and Family Violence recommendations of the Not Now, Not Ever Report- Putting an End to Domestic and Family Violence in Queensland.
The sharing of consumer stories during training delivery was pertinent and beneficial providing an opportunity in which to cut through the academic process to the raw human emotion that lay behind the Domestic and Family Violence. By providing the point of view of a victim/survivor it in turn creates an opportunity to encourage and remind clinicians to think beyond the physical manifestations of the abuse to how the person maybe feeling psychologically. During the delivery of the Domestic and Family Violence Train the Trainer in MNHHS district, Natasha was invited to co-facilitate at all 4 sites by sharing her lived experience with participants.
The evaluation of these sites and anecdotal feedback suggests that face-to-face sharing of a victim/survivor experience had a profound impact on the way in which the training materials were absorbed by clinicians and how they would be delivered to front line staff. In addition, participating staff reported reflection on how the service could tweak current procedures when utilising screening tools or during a victim/survivors presentation at the service.