Breakouts 10 to 12
Breakout 10
Driving culture change needs many hands on the wheel – the critical role of executives, consumers and dedicated staff in cultivating a culture of Caring Together
Caboolture and Kilcoy Hospitals and Woodford Corrections Health Service
Dr Lance Le Ray
Suzanne Michaels
 Jurina Demaine
True culture change occurs when individual and collective behaviour realigns with the desired attitude and values of an organisation. This kind of change needs leaders to lead from the top, and influential champions to drive behaviour change within the workforce.
At Caboolture and Kilcoy Hospitals, and Woodford Corrections Health Service, our commitment to Caring Together – to partnering with you to ensure you feel heard, valued, supported and respected always – is now firmly ingrained in the fabric of the organisation.
Changing the culture of this organisation to one that puts the patient at the centre, that embraces consumer input as integral, and empowers staff to own their role in improvements has been driven by passionate executive, key staff positions, and the Caring Together Consumer Network.
This presentation will delve into the culture change process well underway in this organisation, and show how the executive, consumer and staff roles have successfully intertwined to shift attitudes and produce meaningful behaviour changes. We'll show how it really does take many hands on the wheel to drive change in a healthcare organisation.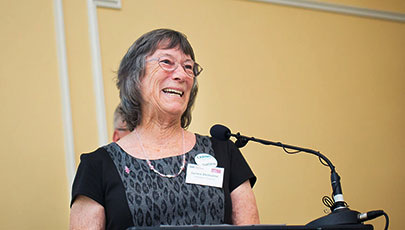 ---
Breakout 11
Connecting with expectant parents through collaboration with consumers
Metro North Hospital and Health Service
Since 2012, Redcliffe Hospital Maternity Service has offered an Emotional Preparation for Parenthood (EPP) class in conjunction with its regular Birth and Parenting program. It was identified by the lead midwifery antenatal educator, the social work team and the perinatal mental health nurse team, that education relating to emotional health challenges in the perinatal period (conception to 24 months post birth) was necessary, however, experience and evidence demonstrated that many parents were reluctant to engage in the content, preferring to think 'it won't happen to us.'
The introduction of consumers as a co-presenter of this education completely changed the dynamic and receptiveness to learning within the class than previously experienced. These consumers were parents with 'lived experience' of perinatal mental illness and recovery. The content suddenly became real, and expecting parents willingly engaged with the concepts and strategies offered to improve early detection and intervention for emotional challenges during the perinatal period. The content of the class was developed through a team approach and has evolved over time based on evaluation received.
Women are more vulnerable to developing a mental illness in the perinatal period than at any other time in their lives, and the challenges of pregnancy and new parenthood can also exacerbate an existing mental illness. However, these disorders are not well recognised or understood in the community. Parents experiencing these disorders may not recognise their signs and symptoms as being caused by a mental illness, may blame or denigrate themselves for the emotions they are experiencing, and may therefore be reluctant to seek help. Sadly, suicide is the leading cause of indirect maternal death from day 42 to 365 after birth.
Women learn and retain knowledge more readily by hearing stories and experiences from other women (Clinical Practice Guidelines: Antenatal Care, DOHA, 2012). Consumers participating in an EPP class enables role-modelling of positive help-seeking behaviours; hope for recovery; honest and open relationships between parents and clinicians, as well as provide partners with much needed support.
In addition, the midwives participating in the delivery of the class have described an enhancement of their understanding of perinatal mental illness, and their ability to provide empathetic and comprehensive family-centred care aligning with best practice in perinatal mental health.
This presentation will highlight that a genuine collaboration based on mutual respect between midwives and consumers not only enhances learning for the community, but can drive improvement in the design, delivery and evaluation of maternity services within a Hospital and Health Service.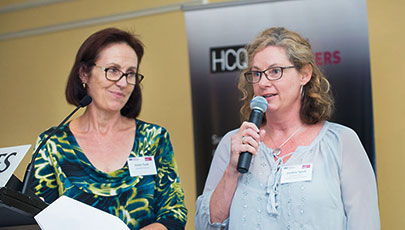 ---
Breakout 12
Evidence from a systematic literature review
Griffith University in partnership with Metro South Hospital and Health Service
Carolyn Ehrlich
Faiza El-Higzi
Background: The concept of consumer involvement in research is supported in policy both in Australia and globally. There are multiple reasons for this, which coalesce around two key principles. First, consumers are the recipients of health care and as such they ought to be involved in research that impacts the care they receive. Second, it is frequently argued that consumer involvement in research facilitates the translation of research into practice by increasing the ability of consumers to effectively interact with science and research. Despite the apparent virtuosity of involving consumers in research, the concept is quite intangible and researchers do not always find it easy to adopt the concept in practice.
Method: After completing a comprehensive and systematic review of the relevant literature, we sought to understand the perspective of consumers regarding ways that consumer engagement in research could be enhanced within Metro South HHS. We conducted a semi-structured group interview with consumers. Data was digitally recorded, transcribed and further analysis using thematic techniques were applied.
Results: Overwhelmingly, consumers wanted researchers to engage with them more. They wanted researchers to simplify their jargonistic language. They wanted researchers to recognise that power imbalances occurred and indicated that researchers needed to work with consumers in ways that were grounded in notions of equality. Above all, they wanted researchers to engage with them authentically and respectfully. Consumers were also keen to understand how they could contribute to research endeavours in ways that were engaged them more than as only participants. They believed that they needed training to be able to engage more deeply. Although most consumers agreed that training needed to occur in an interactive environment, others commented that training needed to respond to the different abilities of consumers. For some, this meant an interactive on-line environment that they could engage or dis-engage with as necessary in the context of their lives.
Conclusion: Consumers are overwhelmingly interested in engaging with researchers at all stages of research. However, they needed researchers to engage with them authentically and responsively.