Breakouts 4 to 6
Breakout 4
Life+ Peer navigation for people newly diagnosed with HIVQueensland Positive People
Chris Howard
Satrio (Tiko) Nindyo Istiko
In 2016 Queensland Positive People (QPP) implemented a Peer Navigation Program for people newly diagnosed with HIV and those reengaging in care. Peer Navigation is an early intervention model that supports early treatment uptake by supporting clients to navigate the complex environment of HIV treatment and care.
The program was adapted from a well evaluated Canadian model developed in community and clinical partnership. QPP is committed to the 'Greater Involvement of People with HIV/AIDS', commonly referred to the GIPA. GIPA acknowledges the central role of PLHIV in HIV education and care, and in the design and implementation policies and programs, in order to successfully tackle HIV/AIDS.
QPP's Peer Navigation Program is an example of GIPA in practice. The goal of QPP's Peer Navigation is to improve health outcomes for people who are newly diagnosed or re-engaging in care by reducing the time between diagnosis and treatment uptake, increasing HIV health literacy, supporting the development of self-management skills and building individual resilience.
QPP's Peer Navigation program has been adapted to the changing needs of the PLHIV population. QPP has been successful in securing funding to provide Peer Navigation services to Medicare Ineligible PLHIV. QPP's Peer Navigation Program is also being evaluated in partnership with the University of Queensland through a HIV Foundation Queensland Research Grant.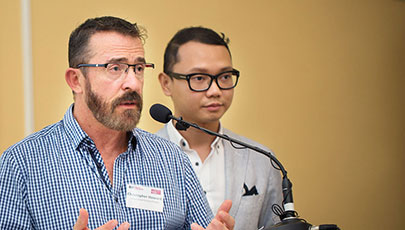 ---
Breakout 5
Good Start to Life – Co-designing optimal maternal and infant nutrition resources for and by Maori and Pacific Islanders families living in Queensland
Children's Health Queensland
The Good Start Program is a Children's Health Queensland Hospital and Health Service initiative which aims to improve the health and wellbeing of Maori and Pacific Islander children and families in Queensland. The program targets seven of the largest Maori and Pacific Islander communities – Maori, Samoan, Tongan, Cook Islander, Fijian, Fiji Indian, and Papua New Guinean.
Maori and Pacific Islander adults in Queensland experience significantly higher rates of chronic disease and overweight/obesity compared to the rest of the Queensland population with the trend in overweight/obesity also seen in Maori and Pacific Islander children. Addressing childhood obesity during the perinatal period and throughout infancy has been found to contribute to reducing the prevalence of chronic disease and obesity.  The lack of culturally appropriate antenatal and child health care services and resources, low levels of health literacy and a strong cultural reluctance to seek support presents challenges in addressing these key health issues and ultimately childhood obesity within the Maori and Pacific Islander community.
In order to appropriately address maternal and childhood health inequalities in the community, the Good Start Program established a consumer engagement strategy and subsequently created the Good Start to Life project. Good Start to Life is an important preventative health strategy for Maori and Pacific Islander families that promotes optimal maternal and infant nutrition.
It was vital for the Good Start program team to involve health consumers in co-designing the project.
In the Good Start to Life project, health consumer engagement was paramount and led to the creation of user-friendly, consumer driven, culturally appropriate, low literacy resources. These resources will improve the knowledge, skills and confidence around maternal and infant nutrition and ultimately contribute to addressing the rates of childhood obesity in a vulnerable population group. Building strong partnerships with consumers proved vital and set a strong precedence for future preventative health care strategies.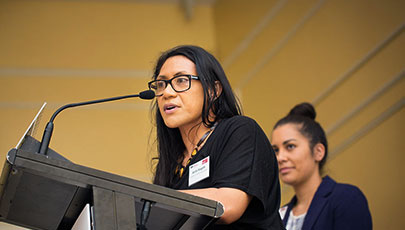 ---
Breakout 6
People with disability – leading individual and systems change
Queenslanders with Disability Network (QDN)
Michelle Moss

Daniel Flynn
Peter Gurr
As part of the National Disability Insurance Scheme (NDIS), Queenslanders with Disability Network (QDN) was funded through the Disability Support Organisation (DSO) initiative to establish 20 groups in locations across Queensland, led by people with disability for people with disability. The groups have the focus of helping people with disability get ready for the NDIS, share information about what is available in their community, discuss how the NDIS will interface issues with mainstream services like health, housing, transport and be informed on topics important to people with disability.
Townsville has been one of the first locations in Queensland to have NDIS rollout and QDN has a strong and vibrant local support group established in this community. The group have been dedicated to focusing on preparation for their own individual NDIS plan, meeting fortnightly to go through all the life domains that the NDIS supports people in, look at their own needs and the supports they need, and start thinking about their future goals and dreams.
The Townsville Local Support Group – an initiative of the National Disability Insurance Scheme (NDIS) funded to establish local peer networks to support each other getting ready for the NDIS, and also to work in the local community about what is working and what could be improved to make Townsville a more inclusive town.
The Townsville Local Support Group are the eyes and ears on the ground to inform QDN about what is working, and what is not from the lived experience and perspective of people with disability