Breakouts 7 to 9
Breakout 7
Communication across cultures with emotional intelligence
Townsville Intercultural Centre
Townsville Intercultural Centre has been engaged with health consumer support over the past 3 decades. The team represent the needs of consumers from Culturally and Linguistically Diverse (CALD) communities in the Townsville region.
One of the biggest barriers that the consumers face in accessing health and mental health services is communication failure due to cultural issues. They are not simple issues. The consumers background, prior experience with health services or any trauma that they may have suffered, one and all interfere in the way they interpret the information provided to them by the service providers, all of which are hidden from the decision makers who administer a procedure or a drug.
Unfortunately, the usual cross cultural training courses cannot address the issue. They are based on stereotyping a group of people based on a set of dos or don'ts, ideas learned in a training. That is exactly what should be avoided; judging people by their look or cultural identity label. Over the past 20 years, Dr Daliri developed communication tools that are based on emotional intelligence and avoid any value judgement of clients.
In his course he teaches how to unlearn and re-engage with the intention of knowing the person within the positive and encouraging space that should be created at the beginning of a communication. Dr Daliri shows how nonverbal communication is more effective than verbal and how to utilise nonverbal body language for communication which involves both heart and mind.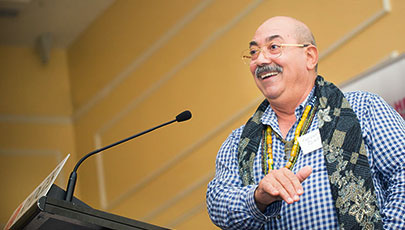 ---
Breakout 8
Transforming culture: CHQ's ongoing community and consumer engagement approach
Children's Health Queensland
Tania Hobson
Keren Pointon
Children's Health Queensland (CHQ) is a specialist state-wide hospital and health service providing the best possible family-centred health care for every child and young person in Queensland. CHQ are committed to engaging with parents and carers, children and young people using their knowledge and experiences to help their staff deliver the best possible care. Working with consumers is a given, but can often be tokenistic as health care providers struggle to find meaningful ways to collaborate. One of the underlining principles of the CHQ Consumer and Community Engagement Strategy is the principle of co-design. Over the past 12 months there have been many initiatives and projects throughout the Hospital and Health Service where staff have partnered with consumers in a meaningful way to effect meaningful change. Initiatives were showcased from throughout the Hospital and Health Service at the Consumer and Community Workshop in February 2016, which was attended by over 50 staff, consumers, and guests. Initiatives which will be discussed include those from:
iCARE including the consumer newsletter, "connections"
Queensland Youth Cancer Service
Child and Youth Mental Health Services
Child and Youth Child Health Service including their Youth Advisory Council
CHQ Family Advisory Council
Consumer focussed Information Technology initiatives
This presentation seeks to provide insights into the practicalities of how to partner with an organisation from the perspective of consumers and the health care organisation and also how to translate feedback in real terms from consumers into change for health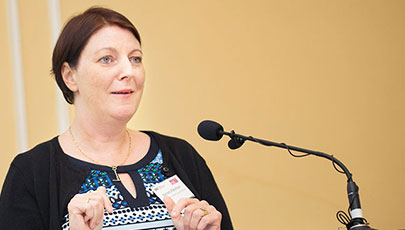 ---
Breakout 9
Be heard: Safe communication @ Redland Hospital
Metro South Hospital and Health Service
Damien Dwyer
Shirley Edwards
The Queensland Government (2016) estimates that 1 in 6 Australians experience some degree of hearing loss, and the signing Deaf community ranges between 6 500 and 15 400 people. This is a large number of people who face challenges in accessing adequate health services in a very much hearing world. Members of the Deaf and hard of hearing community face significant barriers when accessing health information and services, and often are not completely aware of what's happening to them, at a time when knowledge of their health, and medical or health procedures are vital. Redland Hospital received a significant patient complaint raising issues of inadequate communication with and provision of necessary supports for people who are Deaf or hard of hearing. This complaint provided a "call to action" for the hospital at the executive level.
Consequently, Redland Hospital is using the lived personal experiences and knowledge of consumers with hearing loss (either Deaf or hard of hearing) to assess the accessibility of health services at Redlands Hospital for consumers with a hearing loss. A steering committee for the initiative was established by partnering with local consumers and community organisations, and is the driving force behind the project roll-out.
Through the use of consumer-led unit audits using the locally-developed Communication Accessibility Checklist auditing tool, a gap analysis of the facility's barriers, facilitators and limitations in delivering safe services for Deaf or hard of hearing individuals is being undertaken. Using a multi-strategy approach, action planning involving input from both consumers and the unit-based staff is being implemented to address the specific barriers and gaps identified in each unit.
Research ethics approval has been obtained from MS Research Governance to enable data collection and presentation of outcomes.