2019 annual forum

2019 Health Consumers Queensland Annual Forum: 5 – 6 June
---
---
Consumer Awards
Every year Health Consumers Queensland has an opportunity for staff and partnering consumers to submit their consumer engagement projects through a Call for Abstract Application to present at the Annual Forum. These submitted abstracts go in the running for our Consumer Awards.  These applications are then considered and selected by a judging panel which includes representatives of Health Consumers Queensland's staff and Board, members of the Health Consumers Queensland Consumer Advisory Group and a representative from Clinical Excellence Queensland.
Partnership Award
The Partnership Award recognises how an organisation has meaningfully partnered with health consumers and carers to truly collaborate, which has led to better health outcomes. This award recognises that consumers were involved in the whole process of the project from planning, design, delivery and evaluation and demonstrates the drive, growth and commitment to ongoing partnerships. The Partnership Award represents authentic partnerships that has been respectful, inclusive and made a difference.
Winner: Children's Health Queensland Tube Feeding Project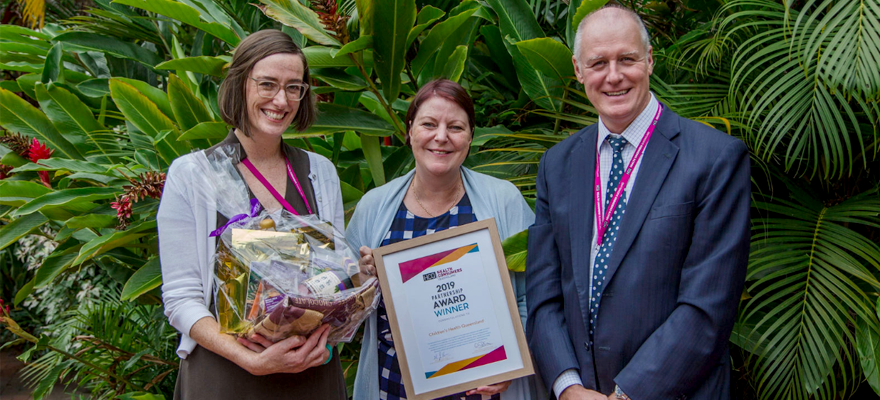 Congratulations to Claire Reilly (left), Paediatric Dietitian, Children's Health Queensland and Keren Pointon (centre), Consumer Representative, pictured with award presenter Dr John Wakefield.
The Queensland Children's Hospital Interdisciplinary Feeding Team often provides care to children requiring weans from temporary feeding tubes that have been in for extended periods of time (i.e., greater than 12 months). This is despite resolution of the original reason for the tube's insertion. This was the experience of Keren Pointon and her daughter, who advocated for innovation and transformation of current management practices through the establishment of the Temporary Tube Feeding Management Project.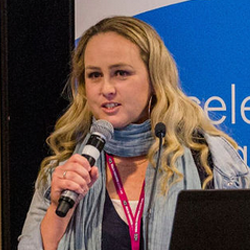 Highly Commended
Royal Brisbane and Women's Hospital
Meaningful engagement for women and families at the Royal Brisbane and Women's Hospital
Jessica Toleman, A/Executive Director, Women's and Newborn Services, Royal Brisbane and Women's Hospital
Leah Hardiman, Consumer Lead (pictured)
The executive team at the Royal Brisbane and Women's Hospital (RBWH) are motivated to include women's and family's voices in the design and strategic planning of maternity, gynaecology and neonatology health services. The service line executive group of Women's and Newborn invited a consumer representative to be a part of their team. Leah Hardiman was recruited into this position in January 2018. However, it was recognized that they wanted more than just a consumer representative at the monthly meetings. They wanted an onsite weekly presence within their hospital.
---
People's Choice Award
Winner: Gary Hondow and Wide Bay Hospital and Health Service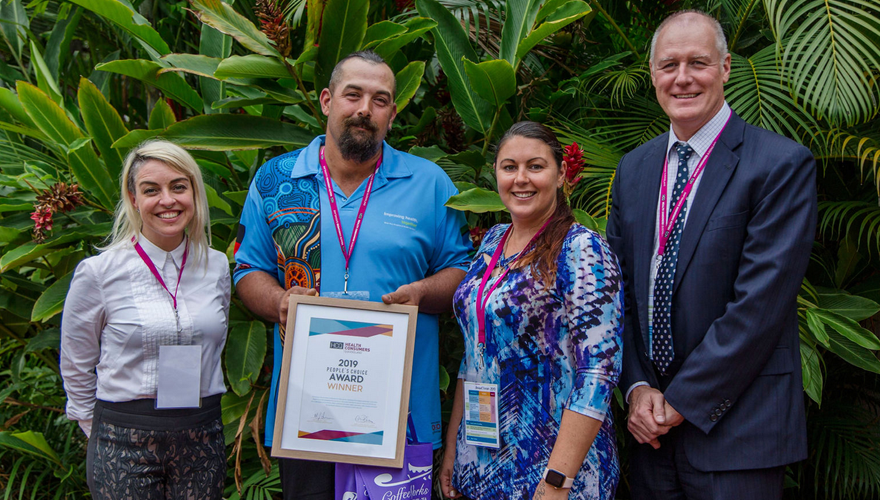 A clear winner in the People's Choice vote, Gary Hondow (second left), pictured with Health Consumers Queensland CEO Melissa Fox (left), Sharmaine Hondow (second from right), and award presenter Dr John Wakefield.
Up until the age of 14 months, Gary and his wife Sharmaine had a relatively typical child. It was then that they noticed things were not quite right, and after multiple tests and years of waiting for a diagnosis, found themselves parents of a child with a rare, complex medical condition. This forced them into a world of healthcare they had never envisaged being a part of. Gary's story will tell how he began as a farm worker searching for answers, advocating for better care and services for his son, to becoming a Health Consumers Queensland advisor who has sat on State-wide committees such as the Patient Travel Subsidy Scheme (PTSS) steering committee, Queensland Genomics and HCQ Consumer Advisory Group as well as numerous service improvement groups at Queensland Children's Hospital. He was named Volunteer of the Year 2018 for Wide Bay Hospital and Health Service. Gary is still a farm worker, now advocating not only for his son, but for all consumers using the health care system.
---