Youth Mental Health Services and Reform
As part of the 2017-18 State Budget Government committed more than $68 million over four years for capital works to deliver a new statewide Adolescent Extended Treatment Facility (AETF) at The Prince Charles Hospital; two new Step Up Step Down Units in north Brisbane and south Brisbane; and refurbishment for two new adolescent day program spaces at Logan and the Gold Coast.
This follows implementation of the Government response to the Barrett Adolescent Centre Commission of Inquiry, led by the Department of Health, in collaboration with key Government agencies and health consumers.
The Department of Health is committed to ongoing engagement and participation of health consumers and the co-design process for detailed design, model of service and integrated educational/vocational services.
Health Consumers Queensland is continuing to play an important role in supporting the safe, meaningful engagement of young people, families and the community throughout the co-design of new services.
We are working collaboratively with the Barrett community and other mental health consumers to ensure that our strategic advice to the Department and our facilitation of appropriate engagement activities are always informed by their needs and preferences.
For more information about this ongoing work, the Implementation, the Commission of Inquiry, the Report Recommendations and the Government Response, please go to the Youth Mental Health page on the Queensland Health website
---
How to get involved
There are a range of ways you can get involved and stay up to date on the development and design of services in Queensland for young people with severe mental health issues.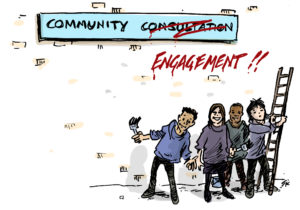 Sign up for information and we'll keep you updated on happenings especially the location and times of any engagement events and activities and other opportunities for input. See the sign up form at the bottom of the page.
Follow HCQ social media – Facebook or Twitter
Check out the Severe Youth Mental Health website www.severeyouthmentalhealth.org developed by members of the public advocating for those affected by severe and complex adolescent mental health issues following the tragic handling of the Barrett Centre closure
Remember, your privacy and anonymity will always be protected.
---
24-hour telephone helplines
If you need to talk to someone, call:
Kids Helpline on 1800 551 800
Lifeline on 13 11 14
Suicide Call Back Service on 1300 659 467
Mensline Australia on 1300 789 978
Final Report
We asked, you said, we did: moving forward together
August 2017
The final Steering Committee meeting held on 19 July marked the end of this stage of the implementation of the Barrett Commission of Inquiry Recommendations. Health Consumers Queensland has also provided a final written report as well as a short video final report.
June 2017
Twelve Youth Mental Health Forums were held across the state, with representatives from Health Consumers Qld, Queensland Health and the Department of Education presenting on the Barrett Commission of Inquiry Implementation Project.  You can stay up to date with the outcomes from the forums at the Queensland Health website www.health.qld.gov.au/improvement/youthmentalhealth
The final Implementation Steering Committee meeting will be held on 19 July and further information on the next phase of this work will be made available as soon as possible. With the exciting announcement in the Queensland Budget of a $70M allocation to the new facility, 2 Step Up/
Step Down facilities and 2 Day Programs, there is still much work to be done.
Final reports on each aspect of the implementation will be made available also on the Queensland Health website.
---

Leonie Sanderson is our Engagement Advisor. Leonie has over 20 years of experience working in the consumer, engagement and community space and is looking forward to achieving positive outcomes on this significant project.
---