Youth Mental Health Services and Reform
As part of the 2017-18 State Budget Government committed more than $68 million over four years for capital works to deliver a new statewide Adolescent Extended Treatment Facility (AETF) at The Prince Charles Hospital; two new Step Up Step Down Units in north Brisbane and south Brisbane; and refurbishment for two new adolescent day program spaces at Logan and the Gold Coast.
This follows implementation of the Government response to the Barrett Adolescent Centre Commission of Inquiry, led by the Department of Health, in collaboration with key Government agencies and health consumers.
The Department of Health is committed to ongoing engagement and participation of health consumers and the co-design process for detailed design, model of service and integrated educational/vocational services.
Health Consumers Queensland is playing an important role in supporting the safe, meaningful engagement of young people, families and the community throughout the co-design of new services.
We are working collaboratively with the former Barrett community and other mental health consumers and carers including young people to ensure that our strategic advice to the Departments of Health and the Department of Education and our facilitation of appropriate engagement activities are always informed by their needs and preferences.
For more information about this ongoing work, the Implementation, the Commission of Inquiry, the Report Recommendations and the Government Response, please go to the Youth Mental Health page on the Department of Health website 
Reform and Capital Works
A Youth Mental Health Program Oversight Committee established by Mental Health Alcohol and Other Drugs Branch (MHAODB), Clinical Excellence Division, Department of Health oversees the Youth Mental Health Program developed as result of the successful implementation of the Government response to the Barrett Adolescent Centre (BAC) Commission of Inquiry (COI) Report.
The Youth Mental Health Program has two streams – capital and reform. The Framework for Youth Mental Health Reform identifies five key areas of work:
Strengthening child and youth mental health policy and planning in Queensland
Transitions – child and youth mental health services to adult mental health services
Adolescent Extended Treatment Services Enhancement which includes the capital stream of work
Evaluation, Research, clinical quality and safety
Dual Disability (intellectual disability and mental illness).
The Youth Mental Health – Capital Program will deliver:
A new statewide 12-bed adolescent mental health treatment facility on the campus of The Prince Charles Hospital
Two new 6-bed youth Step Up Step Down Units in north and south Brisbane
Refurbishment for two new 15-place adolescent Day Program spaces in Logan and Gold Coast.
Children's Health Queensland Hospital and Health Service (CHQ HHS) is leading the commissioning of the Adolescent Extended Treatment facility, including development of operational processes, workforce recruitment, and ongoing service provision and facility management, under the direction of the AET Facility Commissioning Steering Committee as part of the Youth Mental Health Program being progressed by the Mental Health Alcohol and Other Drugs Branch (MHAODB), Department of Health.
For the latest communiques on this work, please click here.
Get Involved
There are a range of ways you can get involved and stay up to date on the development and design of services in Queensland for young people with severe mental health issues.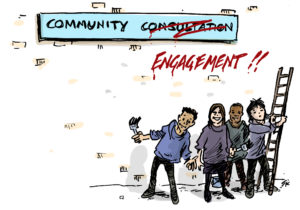 Sign up for information and we'll keep you updated on happenings especially the location and times of any engagement events and activities and other opportunities for input. See the sign up form at the bottom of the page.
Follow HCQ social media – Facebook or Twitter
Check out the Severe Youth Mental Health website www.severeyouthmentalhealth.org developed by members of the public advocating for those affected by severe and complex adolescent mental health issues followingthe Barrett Centre closure.
Remember, your privacy and anonymity will always be protected.
---
24-hour telephone helplines
If you need to talk to someone, call:
Kids Helpline on 1800 551 800
Lifeline on 13 11 14
Suicide Call Back Service on 1300 659 467
Mensline Australia on 1300 789 978
Leonie Sanderson is our Engagement Advisor. Leonie has over 20 years of experience working in the consumer, engagement and community space and is looking forward to achieving positive outcomes on this significant project.
---