Residential Aged Care Facilities
Resources and information for residential aged care facilities to communicate with residents and families during COVID-19
Resources
A group of Queensland-based non-government organisations have collaborated to develop a communication and engagement checklist for residential facilities during COVID-19. This can be used for any organisation that provides care and support for residents, either in short or long-term care.
Staff training
Training based on the Communication and Engagement Checklist was delivered on 5 August 2020 as part of the Office of the Chief Nursing and Midwifery Officer (OCNMO) -based COVID 19 Leadership and Skills Development Series. You can access resources from this training:
Other resources
Compassionate Conversations >
Health Consumers Queensland with the support of four consumers collaborated with the Queensland Health Care at the End of Life team, The Clinical Senate and Statewide Clinical Networks to develop two resources for clinicians to help with compassionate conversations. There are two guides, one for communicating virtually and the second is using an interpreter in virtual communication with consumers and their families.
Leading Age Services Australia: COVID-19 Lessons Learned for Age Services Providers >(Printable A4 PDF) Summary of lessons learned from the pandemic so far, including:

Basic readiness activities
Considerations for when there is active transmission in the community
When a resident, client or staff member tests positive
Major outbreak
Home care
Service level triggers
Resources from Older Persons Advocacy Network (OPAN) and ADA Australia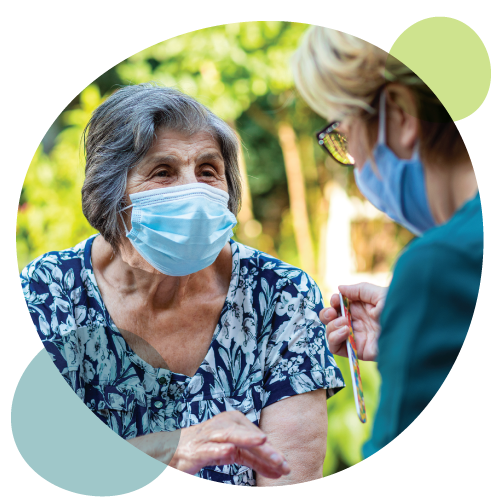 Videos
OPAN has developed a range of resources for RACF's and their residents experiencing a Covid-19 outbreak/lockdown. These include a series of videos by Dr Norman Swan discussing the changes that are happening at the facility – PPE, changes to visits, food etc.  Videos 1 and 2 have been translated into a range of languages.
---
Video 1: Older Persons' COVID-19 Support Line promotional video  (60 seconds)
---
Video 2:  OPAN Norman Swan Residential Care Outbreak Explainer Video (4:15)
This video is particularly targeted for anyone in a residential facility that's experiencing an outbreak
---
Video 3: OPAN Norman Swan Industry Code & Advocacy Explainer Video
(3:40)
---