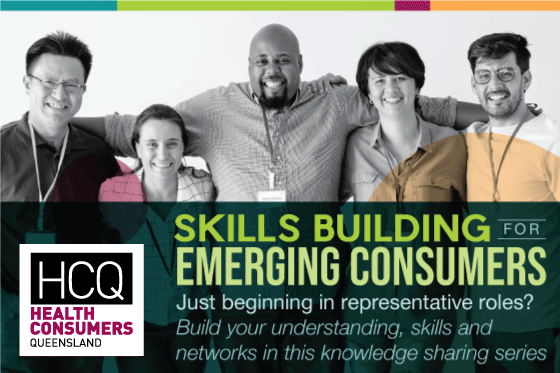 This training will be offered again in April. Details to come shortly.
Are you new to consumer partnerships in health?
Are you interested and ready to partner with a health organisation?
Are you ready to build your consumer partnership skills?
Would you like to connect with other emerging health consumers?
This series has been designed just for you.
This training has been created for health consumers who are very new to consumers partnerships. If you are just starting out or have about 1 to 2 years experience in consumer partnerships, this is the right training series for you.
Session structure and delivery
Introduction to Consumer Partnerships is a series of 4 x 1-hour training sessions.
Each session has a short presentation followed by discussion and your chance to ask questions.
Sessions will be delivered via Zoom video meeting.
You will need access to the internet and a device with a camera and mic to participate in online training.
What are the benefits of participating?
Gain a better understanding of consumer partnerships in health
Understand the health system better
Meet and network with other health consumers
Peer-based learning
Free of charge
Topics that will be covered are:
Introduction to Consumer Partnerships
Understanding the Health System
Your Consumer Journey
Getting your first role
Fortnightly from Tuesday 16 February at 11 am
For questions about the training, please contact Reema Naresh on 3012 9090 or [email protected]