Training and Skills Building
Health Consumers Queensland is proud to support health staff to genuinely and respectfully partner with consumers and carers. In turn, we support consumers and carers to become effective advocates on behalf of past, present and future health service users.
Our role in providing consumer training is to equip, empower and enable consumers to participate in a wide variety of consumer partnering opportunities. We also ensure consumers are informed and educated about their rights and responsibilities. Our training for health service staff supports their skills in understanding and implementing consumer engagement within their organisations.
Our training sessions are designed to be friendly, casual and supportive, helping participants to feel competent and confident to share ideas, thoughts and feedback.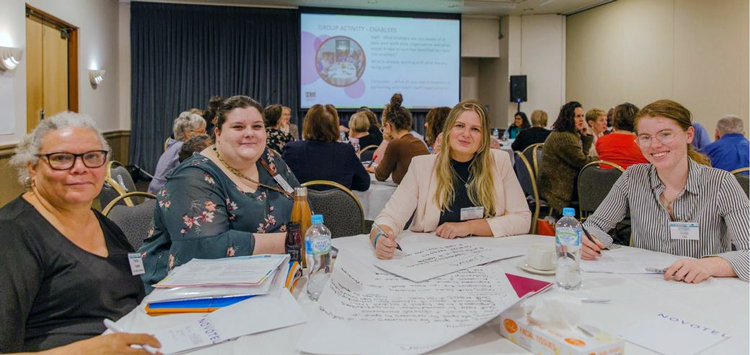 What do we offer?
We continually adapt and deliver our training programs in response to current needs. Some of our popular programs include:
Introduction to Consumer Partnerships for Consumers
Designed for consumers just starting out, or those with a year or two of experience. Learn the basics of
Consumer partnerships
Understanding the health system
The consumer representation journey
Getting your first role
Consumers taking part in this peer-based program can meet and network with other consumers, gain a better understanding of consumer partnerships in health and the system in which they operate.
Fundamentals of Consumer Partnerships for Consumers
onsumers can confidently build their skills and experience using the information in the Fundamentals training. Going deeper than the Introduction program, Fundamentals will help consumers:
Speak confidently about the value of consumer partnerships
Affirm their right to a place at the table where decisions are being made about health systems, services and care
Be a strong advocate for shared decision-making
Apply for a wider range of consumer partnering roles
Share lived experience effectively
Ask the questions that no one else at the table can
Know health organisations stay focused on delivering consumer-centred care
Call on a network of consumer representatives for further information, advice and support.
Fundamentals of Consumer Partnerships for Health Organisation Staff
Staff can a robust understanding of consumer partnerships and build strong peer networks in this signature program. Open to health organisation staff* regardless of experience in consumer partnership, the Fundamentals of Consumer Partnerships aims to deepen understanding of the why and how of developing productive and respectful partnerships.
The Fundamentals covers the theory and background of partnering with consumers. Then the program then dives deep into tips and strategies to create strong and enduring partnerships, and gives staff the foundations of a network of peers to continue to call on.
Engagement Snack Pack for Qld Health Staff
These bite-sized lunchtime sessions are designed with busy staff in mind. These online workshops will give staff from all areas of Qld Health the information they need to get started on their own consumer partnership journey. Why not gather your team to watch together?
Who can join our training?
Training is free of charge for consumers and Queensland Health staff who are members of our network.
Don't work for Queensland Health but would like to do the training? Read more >
Really fabulous overview of what it means to be a consumer health rep and the possibilities for contributing. I'm really looking forward to the next session.
It was an excellent session which felt very agile to the size of the group. The lived experience of [the consumer presenter] was also excellent and quite eye-opening to better highlight the inequalities, lack of health literacy and challenges.
Great job. Really lovely safe way of learning about consumer engagement.
Really excellent session. Great concepts and useful advice for health workforce to ensure that we make space for consumers to have input. Excellent presenter who brought the participants into the workshop, so that we were a part of it, not just attendees. Really enjoyed having a confident consumer as part of the group
Absolutely amazing! Working together and hearing different perspectives was great.