Training and Skills Building
Health Consumers Queensland is proud to support health staff to genuinely and respectfully partner with consumers and carers. In turn, we support consumers and carers to become effective advocates on behalf of past, present and future health service users.
Our role in providing consumer training is to equip, empower and enable consumers to participate in a wide variety of consumer partnering opportunities. We also ensure consumers are informed and educated about their rights and responsibilities. Our training for health service staff supports their skills in understanding and implementing consumer engagement within their organisations.
Our training sessions are designed to be friendly, casual and supportive, helping participants to feel competent and confident to share ideas, thoughts and feedback.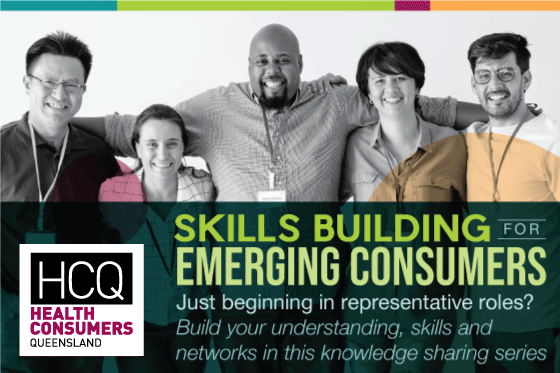 REGISTRATIONS HAVE NOW CLOSED FOR THIS TRAINING. DATES FOR THE NEXT SERIES WILL BE RELEASED SHORTLY. PLEASE KEEP YOUR EYE ON OUR eALERTS FOR MORE INFORMATION.

Are you new to consumer partnerships in health?
Are you interested and ready to partner with a health organisation?
Are you ready to build your consumer partnership skills?
Would you like to connect with other emerging health consumers?
This series has been designed just for you.
This training has been created for health consumers who are very new to consumers partnerships. If you are just starting out or have about 1 to 2 years experience in consumer partnerships, this is the right training series for you.
Session structure and delivery
Introduction to Consumer Partnerships is a series of 4 x 1-hour training sessions.
Each session has a short presentation followed by discussion and your chance to ask questions.
Sessions will be delivered via Zoom video meeting.
You will need access to the internet and a device with a camera and mic to participate in online training.
BY INVITATION ONLY
Workshops to help strengthen your consumer partnerships 
Grab your lunch and join us for quick consumer engagement workshops via Teams. These workshops will give you the practical advice you need to strengthen your partnerships with consumers.
Who can participate?
Only staff engaged in priority projects as identified by Queensland Health and Health Consumers Queensland.  Not sure if this is you? Ask your supervisor or contact us.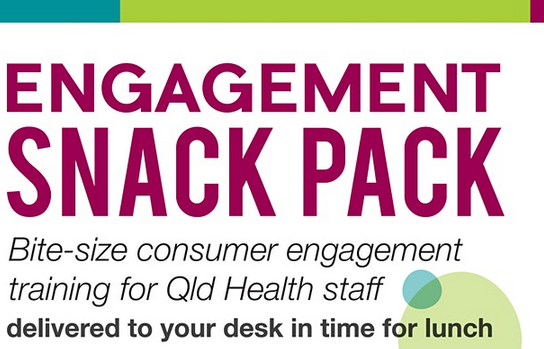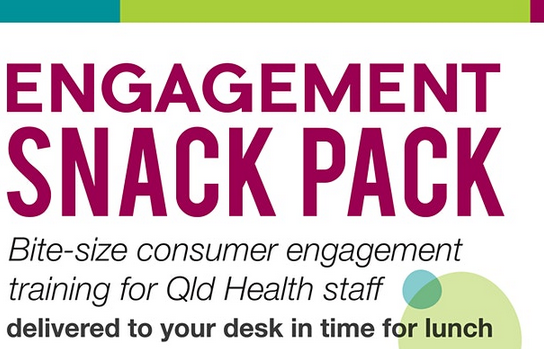 Session structure and delivery
4 x 30-minute sessions.
Begins with a short presentation followed by questions from the participants.
Delivered via Microsoft Teams.
You will need to register to attend the session.
Read our Guides to Consumer Partnerships
There is no need to wait for training to begin developing your skills!
Health Consumers Queensland has produced three handy guides to consumer partnerships that will become your go-to resources for all things partnerships:
A Guide for Consumers Partnering with Health Organisations
A Guide for Health Organisation Staff Partnering with Consumers
Consumer and Community Engagement Framework